0 Comments
Plate of The Day
Avoid These Popular Food Planning Problems At Your Wedding
After parsing down the number of attendees and finding the perfect venue, you should start thinking about how you are going to feed everyone. Before you imagine what hors d'oeuvres you would like to nibble on, read about these common food planning mistakes and their simple solutions.
Problem One: Picking a catering company that has no alternative dishes for dietary restrictions.
You need to find caterers in Toronto that have a fantastic menu that accommodates everyone. One of the best catering companies in Toronto that you can book for the wedding is The Food Dudes because they have an impressive and customizable menu filled with gourmet dishes for unique dietary needs. If you don't know what types of diets you are dealing with, request that your guests notify you of any restrictions or allergies on your invitations — collect this information from the RSVPs when you finally plan your wedding menu and talk to the company. This thoughtful move will make sure no one is forced to eat food that will make them uncomfortable or go hungry for the rest of the night. Another good rule of thumb is to never underestimate the importance of choosing your wedding caterer well in advance — if you find out that one of your guests suddenly declares themselves gluten-free or vegetarian, you have enough time to modify the menu.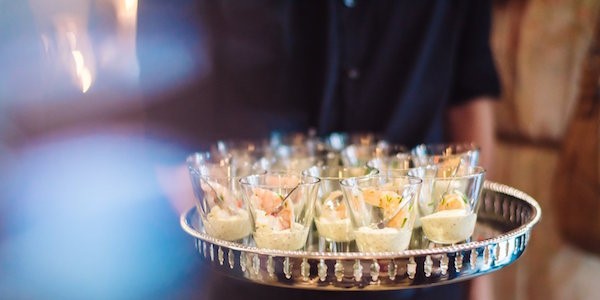 Problem Two: Serving only one or two appetizers to guests during the event's cocktail hour.
Most couples will prepare a cocktail hour to keep guests occupied with finger-foods and cold drinks so that the venue can be prepped for a grand dinner. Industry professionals suggest picking more than one or two appetizers when wedding menu planning because people will get bored of seeing the same option pass by, eventually ignoring the full trays the servers are offering. The pros recommend picking four to seven appetizers with different ingredients and flavours to please a crowd, like:
Strip steak tostadas
Smoked chicken drumettes
Cajun shrimp
Vietnamese spring rolls
Risotto cakes
Truffle fries
Mini pavlovas
Problem Three: Setting up a cash bar and making your guests pay for their drinks for the entire night.
You don't want to have a dry wedding, but the cost of alcohol for a packed reception will take a sizable chunk out of your budget. One of the biggest wedding etiquette mistakes that you can make as a couple is to get your guests to foot the bar bill — asking them to pull out their purses and wallets after they've paid for parking, gifts and even new outfits will put a damper on their evening. If you want to shave down the costs of booze, you can choose to serve only wine and beer instead of stocking the bar with a long list of spirits, mixers and garnishes.
The guests may not remember the napkin colours that you carefully selected or the lovely design of your invitations, but they will remember what they ate. When you put extra attention into the food and drinks you serve at your wedding, everyone will have a spectacular time.
---