0 Comments
Recipes
Exotic Foods You Can Easily Make At Home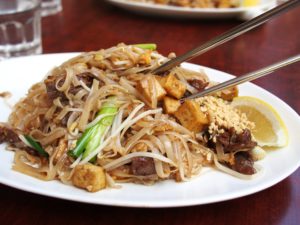 Are you bored of eating the same old foods? If you think it's time to upgrade your culinary expertise to something a little more exotic, it's time to expand your repertoire a little with these recipes. A little more unusual than the standard steak and fries or basic pasta dish, these exotic foods can easily be made in your own kitchen without having to take a cordon bleu cooking course!
Thai Inspired Beef
If you love a delicious roast beef dinner but want something a little more flavorsome from your meal, try this Thai inspired dish. Easy to make in today's hottest kitchen gadget, the sous vide cooker (there is information found right here about buying one of these handy devices), this tasty recipe is sure to delight both traditionalists and those who love exotic foods.
Ingredients:
¼ cup vegetable oil
4 sliced garlic cloves
4 8oz beef steaks
2 sliced shallots
10 sprigs of thyme
7 chopped kaffir lime leaves
6 1" orange zest strips
2 tablespoons of fish sauce
1/3 cup soy sauce
10 chopped dried chilis
1 tablespoon of unsalted butter
Fry the garlic in a pan with the oil. When crisp and golden, drain and reserve the oil. Make slits measuring 1" in depth over your steaks and stuff with garlic. Fill the sous vide bag with rosemary, lime leaves, shallots, thyme, fish sauce, orange zest, soy sauce, garlic oil and dried chilis. Put the steaks into the bag, seal and leave to marinate for two hours. Cook your meat inside the bag in your sous vide for 45 minutes. Remove from the water and fry the steaks in the unsalted butter for 6 minutes, turning once. Serve immediately with Asian-inspired salad.
Lentil Dahl
This is an incredibly simple meal which is perfect for anyone who loves curry. Even if you aren't a fan of lentils, you're sure to enjoy this served with naan bread.
Ingredients:
8 oz red lentils
1 teaspoon of turmeric
1 teaspoon of cumin (ground)
1 chopped onion
1 tablespoon of sunflower oil
¼ teaspoon of salt
Boil the lentils in a pot of water. Once it has reached boiling point, skim the scum from the top and add salt and turmeric. Now reduce the heat, simmering the pan on a low heat for 14 minutes. The lentils should now look similar to thick soup. Heat the cumin and oil in a skillet and add the onion. Fry until golden brown then add the onions into the lentils. Cover the pan then cook for 5 minutes before stirring and serving.
Teriyaki Salmon
Japanese cuisine isn't usually very easy to make at home, however Teriyaki salmon is surprisingly effortless. This glaze is ideal for salmon or other chunky fish thanks to its slightly sweet flavor.
Ingredients:
¼ cup of light brown sugar
1 ½ tablespoons of cornstarch
¼ cup of soy sauce
3 tablespoons of rice vinegar
4 salmon fillets
Preheat your broiler and dissolve your cornstarch in a tablespoon of water. Put the cornstarch, rice vinegar, soy sauce and sugar in a pan and mix. Boil the mixture, whisking it until it thickens, forming a glaze. This will take around two minutes. Dip the fillets into the glaze, giving each one a complete coating. Lay the fillets onto a baking sheet lined with foil and put under your broiler until thoroughly cooked, basting as required with the remaining glaze 2 or 3 times. Serve with salad or rice for a delicious Asian inspired meal.
Lychee And Cucumber Salad
If it's too warm to spend hours preparing food in the hot kitchen, why not try this exotic salad. Ideal for summer, it pairs the fruitiness of lychees with the freshness of cucumber for a tasty lunch.
Ingredients:
2 cups of lychees
1 cucumber
2 red chilis
3 cilantro sprigs
1 teaspoon of sugar
2 limes
1 tablespoon of rice wine vinegar
Deseed the chilis and chop them finely. Peel your lychees, pitting them then cutting them in halves. Pick off the cilantro leaves, chopping the stems finely. Zest the limes then juice them and cut your cucumber down its length. Scoop the seeds out using a spoon then cut the flesh into ¼" chunks. Put the lychees, cucumber, cilantro and chilis in a bowl. Add the lime zest, sugar, lime juice and rice wine vinegar to the bowl, toss well and then arrange the cilantro leaves on the top as a stylish garnish. Tasty!
---