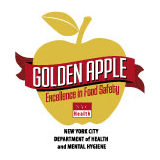 New York Restaurant Health Inspection Results
So you know the old saying that you are always 10ft away from a rat in NY? I got this hillarious and quite frankly frightening email from my coworker last week. The NYC Department of Health has released a new list of restaurant violations. The complete list can be found online . Now, you can search to see documented cases of rodents, employees who don't wash hands, and insects at your favorite restaurants.
Actually, you have a choice in your search – those that have received the coveted Golden Apple Award for excellence in food safety and quality and those restaurants who've received recent violations. I didn't see any of the restaurants that I've covered over the years on the Golden Apple list but to be fair, this list isn't very extensive – mostly fast food places like McDonalds, Wendy's and Blimpie.
As for the violations, here's a place I like to go that recently received some violations:
CHANOODLE EXPRESS INC
79 MULBERRY STREET, MANHATTAN 10013
212-349-1495
But not a serious offense thankfully:
1.) Lighting inadequate. Fixture not shielded.
2.) Food not protected from potential source of contamination during storage, preparation, transportation, display or service.
I just at at Big Nick's on Saturday and here's the violations:
BIG NICKS BURGER JOINT
2175 BROADWAY, MANHATTAN 10024
212-362-9238
Current violation points: 17
Inspection Date: 10/18/2006
Violations were cited in the following area(s) and those requiring immediate action were addressed.
1.) Toilet facility not maintained and provided with toilet paper, waste receptacle and self-closing door.
2.) Sanitized equipment or utensil, including in-use food dispensing utensil, improperly used or stored.
3.) Food Protection Certificate not held by supervisor of food operations.
Enjoy!!